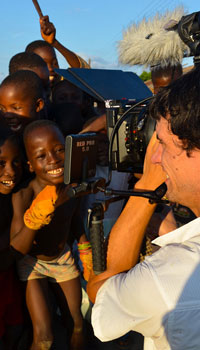 Andy Maser is an Emmy Award winning Director and Director of Photography with thirteen years of experience in commercial, broadcast, documentary, non-profit and feature film production. He calls Portland, Oregon home, but regularly shoots in locations around the world.
A National Geographic Explorer, Andy is often tapped for difficult shoots in remote and dangerous parts of the world.  He is comfortable shooting on SCUBA, hanging out of helicopters and navigating logistics in politically unstable countries.  He has his FAA Part 107 UAV (drone) certification for piloting in the United States.
Andy takes pride in bringing a new, creative style to documentary and commercial productions—from PBS specials to high end branded content.
The Team
Hayden Peters An eye for great photography and an ear for story. If there's a shoot to do, Hayden's the man to do it--well. Shooting? Yep. Editing? Done. Sailing, surfing, scuba, paragliding, fixing an engine? All over it. If you want a shoot to run as efficiently as possible, you want this guy around.

Download Hayden's Resume

Brian Dalrymple Brian is our go-to for unmanned aerial filming. He owns and flies two of the finest octocopter systems available--gyro-stabilized systems that allow independent control of copter and camera. Brian was shooting from land long before he took to the air and knows how to craft a great image.